New organic and eco-friendly products !
The hotel de Guyenne improves in respect of our environment with the arrival of organic and eco-friendly products!
After sensitizing and training its students to ecology  with selective sorting. We have involved our customers for water conservation and energy saving with booster signs located in the rooms. Today, the hotel is becoming more involved with new organic and eco-friendly products.
Less risk of allergies with eco-friendly products, no more bad smells! Eco-labeled, allergen-free cleaning products allow the environment to be respected but also for its users.
You will also find Floraluxe organic cosmetics in your rooms: a natural cream soap and active body lotion "eco cert" and "organic certification". Use them safely.
Bio and green: better for the environment, better for you …
One more reason to book in our hotel in Talence!
New at the Hotel de Guyenne: the "Suite" room has been renovated and looks forward to welcoming you!
Come and discover the new "Suite" of the Hotel de Guyenne in Talence, completely renovated, for even more comfortable nights! This more modern room welcomes you in a refined setting, with its lounge equipped with a TV and a welcome tray to relax. You will find a comfortable bed and a bathroom equipped with a bathtub and shower, amenities and welcome products (bathrobes, Nescafé products …) worthy of a high-end room. She is waiting for you!
Become a privileged customer: book it !
Laeticia H, student at the Hotel School
The Hotel de Guyenne will be open during Vinexpo 2017 on June 18, 19, 20 and 21, 2017.
Just a stone's throw from the ring road, the Hotel de Guyenne offers easy access to the lounge and the center of Bordeaux.
This year again, Bordeaux will host the essential event for wine and spirits professionals on the international stage.
The organizers have foreseen exciting innovations to multiply the meetings and rediscover the viticulture and an increasing experience.
In 2017, Vinexpo Bordeaux will be more innovative than ever: new format over 4 days, contemporary and dynamic. Spain will be in the spotlight. The organizers have planned an extensive program of conferences and masterclasses. Professionals from all over the world will come together to unveil products and innovations. This fair is also an opportunity to discover new offers to bring viticulture to the fore.
Bordeaux is a city in full renewal, equipped with exceptional infrastructures, including the new Cité du Vin.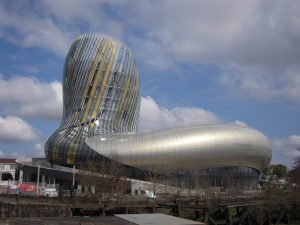 More about Vinexpo